Webinar on RP for radiotherapy installations
Are you involved in the design or modification of radiotherapy treatment facilities? Do you need to stay up to date with the latest developments in treatment techniques and room design?
Don't miss out on this key, free webinar with Patrick Horton and David Eaton as they guide you through their e-book:
Design and Shielding of Radiotherapy Treatment Facilities—IPEM Report 75.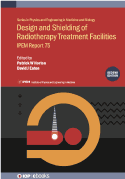 The webinar is scheduled for Wednesday 12 July, 15h00 BST/16h00 CET/10h00 EDT.