EUTERP newsletter issue 9 - August 2015
HERCA workshop on the implementation of the RPO and RPE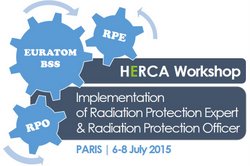 On 6-8 July 2015, HERCA (Heads of Radiation Protection Authorities) organised a workshop hosted by the French nuclear Safety Authority (ASN) in its premises in Montrouge (France) on the implementation of Radiation Protection Expert (RPE) and Radiation Protection Officer (RPO). Experts from 17 European regulatory countries participating in HERCA plus experts from international organisations such as EC, IAEA, and IRPA participated in this workshop.
As part of the HERCA Action Plan in relation with the transposition and implementation of the Directive 2013/59/Euratom (Euratom BSS), this workshop was initiated by the HERCA Task Force on Education & Training in Radiation Protection. It was an excellent occasion to exchange a view with members of the ENETRAP Network to coordinate efforts on the implementation of BSS on RPE and RPO at national level.
Read the full report and watch the presentations on the HERCA website.
RICOMET conference

The First International Conference on Risk Perception, Communication and Ethics of Exposures to Ionising Radiation (RICOMET 2015), was organized from 15th to 17th of June 2015 in Brdo Castle, Slovenia, under the auspices of the three FP7 projects:
EAGLE: Enhancing Education, Training And Communication Processes For Informed Behaviors And Decision-Making Related To Ionizing Radiation Risks
OPERRA: Open Project for the European Radiation Research Area
PREPARE: Innovative integrated tools and platforms for radiological emergency preparedness and post-accident response in Europe

View the presentations on the website of RICOMET.
OTHEA - lessons learned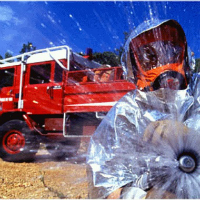 A useful training aid in the field of radiation protection is «lessons learned». When these are based on real experiences, they are even more useful.
More generally, the aim is to encourage good practice within different sectors - medical and veterinary, industrial, research and education sectors, etc. The incidents reports are anonymous and have been selected on the basis of those which provide interesting and useful lessons, to help others prevent such incidents and/or mitigate the consequences.
The OTHEA database contains many such items but would benefit from further input. Each time you have an accident, incident or even a near miss, please register these in the simple process through the OTHEA website. Note that OTHEA does not contain nuclear related events.
EUTERP Associates and NCP
Every professional body with a strong interest in radiation protection education and training may become an Associate of the EUTERP Foundation. View the benefits for Associates and how to apply.
We have been expanding the information concerning the National Contact Points in each country. If you have new or further information about your National Contact Point, please contact the webmaster@euterp.eu.
Training Courses - Information
While this website is being developed to include a full database, Associates can submit any courses they have planned currently to be included under the heading Courses. Please contact the webmaster with course information to be added.
Check out the upcoming courses in radiation protection, as well as the specialised modules from the ENETRAP III project for RPEs working in NPP, medical or geological disposal.
Upcoming events


30 September to 2 October 2015, Athens, Greece
6th EUTERP Workshop

Legislative change in Europe: the implications for training in radiation protection - rising to the challenge
14 to 16 March 2016 , Bern, Switzerland
EAN 16th Workshop 2016

Industrial radiography and Non-destructive testing